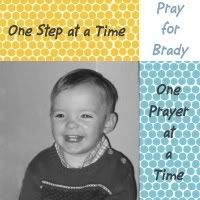 This little guy needs all of our prayers today!
He is battling cancer and will be having an operation today to remove a tumor. This little man is only 2 years old and has endured more then most of us will go through in a life time! Please pray that his doctors hands will be blessed, that Brady will come through the surgery with flying colors and that his parents will have peace during this trying time!
Lord, we lift Brady, and his parents up to you. We ask that you comfort them during this time and shine your Glory upon them.
To meet Brady and his great family, read his story
here.